I've come to realize that I'm going to be responsible for a lot of components of my child's life. There will be a lot of opportunities to mold them in my self-image and teach important life lessons through TV shows – but there will also be a lot of chances for me to screw stuff-up. However, for most of these potential screw-ups, there's plenty of time and other external factors that can correct them. You give your child a terrible haircut, the hair eventually grows back. You teach your child to hate people from Pittsburgh, there's a chance they grow up and eventually meet someone nice from Pittsburgh which makes them question that teaching. It's nice that there are these "second chances" with so many things, because it takes a lot of the edge off of the scariness of parenting. Mistakes can be corrected, scars heal, and pencils have erasers.
Except for one thing. Their name. It's the potential mistake that can last a lifetime.
(Yes, technically someone can change their name once they are a grown-up, but at that point it's far too late. They've already gone through the potential trauma of a childhood of mockery and have learned to accept whatever name their parents gave them… plus it's already written on so many things they own!)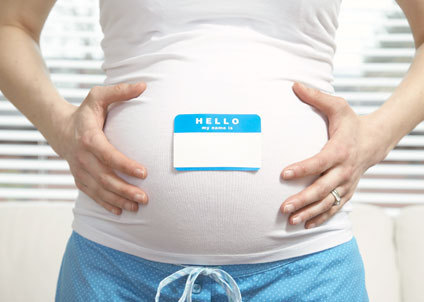 With all this pressure around the name, it's no wonder that there are countless websites and books dedicated to helping expectant parents to find that perfect name. There are lists of the most popular names in each state and country of the world, in-depth explanations about the origin of each name, and even random name generators that let you type in your last name and the Internet will pick a baby name for you. It really makes you wonder how in the world people came up with baby names twenty years ago.
Kate came home with one of these books from the library a few weeks back. It was approximately the size of a dictionary (or at least what I think dictionaries used to look like, before they went extinct) and had names categorized a thousand different ways. Having heard horror stories from friends and coworkers about the difficulties in picking the perfect name, we brought this book along on a long car ride to read it cover-to-cover and begin what we anticipated would be a nine month long journey of research, lists, analysis, and professional assistance in finding that perfect name.
As we drove along, I flipped through the book. Since we are not going to find out if we are having a boy or a girl (stay tuned for a Blog post on that decision at some point in the future), we had to come up with both a solid boy name and a solid girl name. After about fifteen minutes of reading names out loud with Kate, here's what I quickly found out – I hate all names. I think part of it is a result of this book, which was far too "trendy" for my taste. The book was literally five-hundred pages long, and I don't even think it listed "Brian" once. You want "Brice" or "Brixol"? It's in the book. You want a more normal name? Eh… not so much. Not that there is anything wrong with picking a more "fun" name, but when you have a long German last name like I do, you know that over the course of your child's life, they're probably going to spend thousands of hours spelling and pronouncing their name for everyone. It would be a little cruel to give them a first name that requires the same… so that quickly ruled out about 90% of the names in the book.
Luckily, we had another resource – a listing of baby names that Kate had put together when she was fourteen. Fun fact – I have no idea where my college diploma is located, but within one week of finding out we were pregnant, Kate produced a scrap of paper listing potential baby names that was over 15 years old. You might say we are slightly different. Not that there was anything wrong with these names, but they were obviously names that were picked by a female with no male intervention. To her, the name "Nathaniel" is adorable. To me, it's a little girly. (No offense to all the Nathaniels out there – but you really should just be going by "Nate")
Long story short – after about five minutes, we quickly burned through that list as well with no strong name contenders. At this point, we decided to do things the old-fashioned way. We just started talking and thinking about names that we liked. I had very few criteria:
It had to be a name that worked at all ages. There are plenty of names that are "cute" when you're a little kid, but wouldn't work in a business setting (like "Precious"). Likewise, there are plenty of old people names that don't work for a little kid (like "Gertrude"). I want a name that is age-less.
It had to be a name that was less than two syllables long. We've got the long last name, and I don't want my kid to have to spend ten minutes writing his/her name out on the top of every test at school for his/her entire career. That leaves less time to actually answer the questions on the test, and will probably result in lower grades.
It had to be easily nickname-able. Although we're putting all this pressure on ourselves to come up with the perfect name, at the end of the day the child will probably be called by their actual name less than ten percent of the time. I'm actually the worst offender of this in the world. I don't call anyone by their actual name – ever. It's always a nickname, a last name, a combination of a first and middle name, their initials, or just something random I come up with which makes no sense to anyone – but then I use it long enough that it eventually catches on.
It had to be a name that worked regardless of the kid's personality. It had to be a name that could be fun, studious, sporty, professional, sexy, or presidential. Yes, during our debate about girls' names, I said the worst sentence in the history of the world when I said "it has to be a name that can be sexy when she's older"… and then instantly regretted it and vowed if I have a daughter, she will be sporty and not allowed to date boys until she is 30 or I am dead.
Ten minutes later, we had both of our names. I'm fairly certain that in the history of the world, it was the quickest that two baby names had ever been selected. Granted we may grow to hate them both over the next six months and have to go through the process again – but for now, we're happy with them. In the end, I think one of the best things about the names we picked were that both are very easily convertible into other names – there are acceptable variations of both that we gave the kid an out just in case they really, really hate their name. Look at us, already being the best parents ever!
(Actually, it turned out that picking out middle names to go along with the first names was much, much more difficult since there was an added variable in the mix. Now we had to ensure that the middle name went with BOTH the first name AND the last name – and still passed the classic "middle name test" – that being, it sounds like someone is in trouble when you say the first, middle, and last name all together. )
The other funny thing is that at the end of all this, I realized how unimportant the name actually is. It's not the name that makes the person, it's the person that makes the name. Someone can be named "Lazor" and go to bed each night at 8:30 pm. On the other hand, someone can be named "Ruth" and party like a rock star five nights a week. All it takes is one person to make a name awesome for the next generation… or totally ruin it for everyone currently living with it.
I'm just hoping that our child falls into the first category and not the second.